Software > 3DS Max > Plugin News
TyFlow Car Crash Demo
Feb 18, 2019
by
CGPress Staff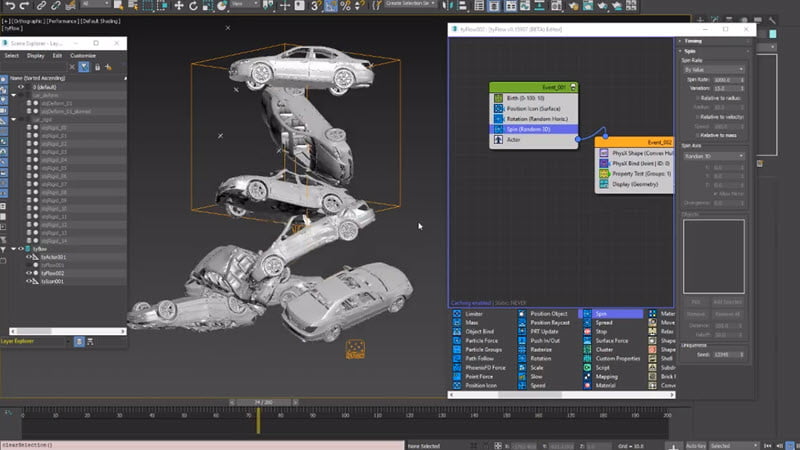 Tyson Ibele has released another sneak peek at tyFlow,  this time though it's a more substantial look at the setup used for his recent car crash demo in which we can see some of the tools and interface in action. If you've yet to hear about tyFLow, take a look at our original article outlining some of what we can expect, but in a nutshell, according to Tyson it's a replacement for PFlow currently under development with the aim to "bring Max back to the 21st century and create what PFlow could have been if development didn't stop 10 years ago".
 

 

 

View this post on Instagram
The video shows how the deformation setup was achieved. According to Tyson's description for the video "The key difference you'll notice between this video and a typical PhysX setup in Particle Flow, is that here we're constructing a rig consisting of skinned meshes and other props outside of our main tyFlow, and then importing the entire thing into tyFlow as a spawnable prefab. The car is not a static shape assigned to a single particle – it is a 1:1 translation of scene objects into particles, and a 1:1 conversion of skin modifiers into equivalent deformations within tyFlow. Once they're in the flow, the particles are treated normally by any additional operators. This flexibility gives you full control over the rig, while tyFlow seamlessly handles the PhysX calculations, skinning, etc. "
Last time we posted about TyFlow the lack screen grabs and detailed information caused speculation amongst the commenters across the web that it may be a hoax. I think you'd agree after watching the video (shared on Facebook), it would have to be a very elaborate hoax indeed! No date or pricing details have yet to be announced, we'll keep you posted as soon as we find out more. 
Related News