Houdini 15 review
4.5/5 Remarkable
- New and updated modeling tools for simpler poly modeling
- Massive additions to the shader system
- More focus on physically-based rendering
- New Viscous Fluid tools
- Onion skinning
- Ragdoll dynamics for crowds

- The new looping system takes getting used to
- Learning curve is still high but there are more tutorials available
- Ongoing shift from local variables to attributes can cause some confusion


Recipient of the CGPress Editor's Choice Award
By Rohan Dalvi, Dec 14, 2015
Introduction
QUICK SPECS
Houdini
Software type: Standalone
Version: 15
Category: 3D Application
Company: Side Effects Soft.
$199 (Houdini Indie - annual rental) - $4495 (Houdini FX - standard license) (at time of review)
SHARE
Houdini is a procedural 3D application developed by Toronto-based Side Effects Software. It was originally released back in 1996 and today we'll be reviewing version 15 of the software.
I didn't expect to review Houdini twice in one year. Houdini 15 has been released a mere 9 months after version 14 but that doesn't make it any less feature rich than the previous release. In fact it's genuinely impressive how much they've managed to add in such a short time.
This time around the big push is towards the modeling tools, shading and lighting along with additions to the animation toolset and the fluids system.
But let's start by looking at the enhancements made to the viewport and interface.
Viewport Enhancements
The viewport is now capable of displaying UDIM and Mari-style tiled textures. It can also display GGX and PBR shaders more accurately. You can view world-space normal maps in the viewport too. Along with meshes, even curves can now be subdivided in the viewport. This allows for better and faster display of hair and fur. Subdivision Curves are also supported in Mantra for faster hair and fur rendering.
The viewport also displays HDR lighting a lot better than the previous version.
Visualizers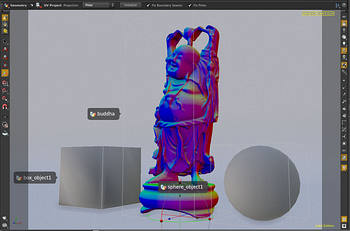 One of the big additions to Houdini are Visualizers. These were available in the previous version but now they are much improved and easier to add to objects.
Visualizers allow the user to display a range of data in the viewport, such as name tags, which can be displayed even if the object is off-screen and can also be used for selecting the object. They can also display attributes like Normals, Velocity or any other custom attribute and even cross-sections of volumes. This can be added in two ways. It can be added via the gear icon in the parameters pane or by pressing "x" on any geometry node which adds a Visualizer node.
Modeling
Houdini has always been thought of as being relatively weak when it comes to basic polygon modeling. With this version and the previous one it has tried to address that area of weakness. In Houdini 15, Side Effects has added and modified some of the major poly modeling tools.
First, Houdini finally has a Polybridge tool. Personally, coming from a 3DS Max background this is a tool I've always missed and I'm really glad this has been added. It is capable of bridging multiple polygons at the same time and since the tool remains live, any transformations or changes made to the geometry upstream are automatically taken care of.
The bridge tool also has options to control the shape of the bridge using a spline ramp, and can also follow a curve if needed.
Similar functionality has been added to the revamped Polyextrude tool. It has a brand new interface and also has the ability to add vertex normals to the extruded geometry. The extrude from curve option seems to be a little buggy, as I sometimes got twisted polygons along the path.
Another new tool that has been added is called Polyexpand2D. This is great for creating outlines out of 2D shapes and polygons, which makes it good for creating walls and roads amongst other things.
Along with this, there is a brand new retopology tool called Topo Build, which will allow the user to trace and rebuild the underlying geometry.
For editing and tweaking geometry, the Edit tool is now capable of multi-selection and also has the option for Edge Sliding. There is an option to visualize soft selection as well. All these things combined definitely make the basic poly modeling tasks a lot better.
There is a new Looping method which uses the Block Begin and Block End nodes to define the loop. It does take a little getting used to since it's a brand new system but the idea is to keep everything at one level as it doesn't require the user to jump inside a subnet like the Foreach Node. This looping method has also been added to the VOP context. To ease the learning curve, Side Effects has provided a comprehensive masterclass for the new looping method.
Houdini is starting to shift away from using local variables to attributes. So now the user can directly use VEX instead of typing the older local variables, eg @P.x can also be used to get the position X instead of the older $TX. This can cause some confusion, as this is an ongoing process and it will be different for a lot of Houdini users.