Houdini 14 review
4.5/5 Remarkable
- Improved viewport and interactivity
- New crowd system
- Position-Based Dynamics for sand, snow and soft body effects
- Massive dynamics toolset
- Procedural approach gives a lot of flexibility

- Higher learning curve
- Can be very technical at times


Recipient of the CGPress Editor's Choice Award
By Rohan Dalvi, Mar 25, 2015
Introduction
QUICK SPECS
Houdini
Software type: Standalone
Version: 14
Category: 3D Application
Company: Side Effects Soft.
$199 (Houdini Indie - annual rental) - $4495 (Houdini FX - standard license) (at time of review)
SHARE
Houdini is a procedural 3D application developed by Toronto-based Side Effects Software. Currently in its 14th iteration, the first version was released back in 1996 (though its roots can be traced back to Prisms, a software developed in the 1980s).
I have been using Houdini since version 8 and to be honest I have always been extremely impressed with what the software is capable of. Coming from a 3DS Max background, with almost 14 years of experience with the software, working on something like Houdini was a revelation of sorts. The procedural node-based approach allowed for a kind of flexibility that I had never experienced before. Even though at times this approach can be extremely technical and a little dense the end results always justified the efforts.
Now, around version 8, the Houdini interface was not the most user-friendly but since then Side Effects Software has made a major effort towards making the software more approachable. This started with the release of Houdini 9, which introduced, among other things, a brand new interface, material system and the physically-based renderer. A major internal re-write was carried out in Version 12 making the entire software a lot more memory efficient and multi-threaded. Along with that there has also been a continuous effort in improving the interface and viewport performance.
Version 14 once again makes major improvements on that front. The viewport, selection process and general user experience has received a huge upgrade with this version. Along with that, improvements have been made to the animation editor along with the introduction of the Animation layers panel. There is a brand new crowd simulation system and Position-Based Dynamics which allow for simulating sand, snow and various soft body effects. UV mapping has been improved and also the hair tools have been updated.
Let's start with the biggest improvement in this version, the user experience.
User Experience
The Houdini viewport and selection has always been finicky. This always made poly modeling tasks in Houdini a little irritating. Selecting polygons and vertices was always a bit of a hit and miss. With this version it seems that Side Effects finally listened to the users. Special attention has been put towards improving viewport interaction and selection. When you open Houdini 14, you are now greeted with a new gradient based viewport. This can be switched back to the default grey, if that is your preference. There is also an on-screen help for various functions.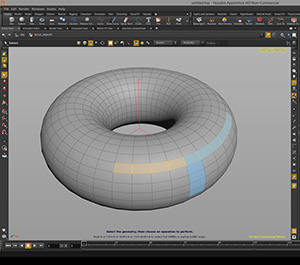 A brand new point, polygon and edge loop and ring selection methods have been added and are much faster than anything available before. The viewport-based help provides the user with the shortcuts required to make the selections. The general method is to press the "A" key and use the mouse to make a loop or a ring selection.

There is also a new HUD that allows you to select elements based on Groups, UV connectivity or 3D connectivity.
There are new handles for box, sphere and grid objects. I hope more such handles are added to other tools in future releases as they make the modeling process more fluid. Also with every node that gets added viewport sliders show up with the relevant parameters.
The Move gizmo has been updated allowing the user to move the object in two axis at the same time, this was something that I have always missed since I shifted from 3DS Max. Also you can use the middle mouse button to indirectly drag the object.
Major improvements have been made to the UV Mapping and Unwrapping workflow. There are brand new UV flatten, Pelting and layout tools along with the ability to visualize UV Distortion.
A new and improved color picker has been added that has the ability to show color based on temperature. This is very helpful when setting colors for lights, since I prefer to set light colors based on temperature. You can also display a secondary color palette based on the current color selection.
Along with all this, viewport playback speed has also been improved tremendously. In a crowd scene that I tested with over 2000 agents the viewport showed no lag at all.
There have also been minor and major tweaks to the parameter interfaces of various nodes, most notably the Mantra render node which has been restructured in a more logical fashion.
There is also a new Digital Assets menu that makes for easier editing and loading of Digital Assets into Houdini. Also the native format for digital assets has been changed from .otl to .hda.
Overall a lot of thought has been put into making the workflow and user interaction more fluid and streamlined and even though things can be improved further, it is a very big step in the right direction.